Not wanted
As a mutual aid organization, VIC FAN members choose who we work with, based on mutual respect and shared principles and goals. Liars, scammers, abusers, and informants are not welcome at our events. We maintain an extensive "Not Wanted" list as part of our commitment to activist safety and security. Here are a few examples.
Read our Code of Conduct.
Pedro Jose Mora
Convicted pedophile living in Victoria.
Mora was convicted of sexually assaulting a fifteen-year-old girl in Burnaby. He was also charged with sexually assaulting four other young girls.

After serving his sentence, Mora applied to have his criminal conviction sealed from public view.

Mora has yet to show any remorse for his actions or compassion for his victims. He lectured us on the need for "identifying properly the real enemy which we both are fighting against, instead of tripping each other with unnecessary fear and hatred."
Mora goes by the name Ion Del Sol on Facebook and Youtube. He served on the board of directors of the Fernwood Community Association for two years.
Josh Steffler
White male supremacist who harasses women
Josh Steffler is second in command at the Libertarian Party of British Columbia. Josh invited renowned Nazi sympathizer Doug Christie to speak at rallies organized by We Are Change in 2011 and 2012. Later he made videos crying about being called a racist. In 2017, he and a few other wingnuts crashed the Women's March in Victoria and tried to stage a physical confrontation with the marchers. Steffler is an amateur conspiracy theorist for the video talk show Freedom Free for All. He lives in Esquimalt with his unfortunate wife and children.
Ryan Elson
White male supremacist who threatens and stalks women
Ryan Elson is a member of We Are Change Victoria and a self-described "Freeman on the land." He's notable for his hatred of feminists, his threats to sue and "expose" people who disagree with him, and his bizarre speculations about communists, anarchists, local government and the New World Order.
Ryan Elson uses the aliases John Pettit, Xtofury, Fixx_revolution, Stealthc, NoCultureForWhites (on Stormfront), and Occupy Victoria BC (on Facebook).
Jayson (Audie) Fleury
Serial scammer from Vancouver Island.
From Ripoff Report:
Jayson "Audie" Fleury first contacted me via Facebook saying that he was a "Mohawk Warrior" fighting for Mother Earth and that he was a poor indigenous man needing funds to help with his two girls he was fostering. We had been texting back and forth and I finally after much pleading from him send him some funds via Western Union. This continued on and off with me sending him what little I have … He used his charm to start an on-line relationship with me. Later I found out from several other women all over the world that he was scamming them out of money also. He is a compulsive liar, and used the funds to buy pot and party.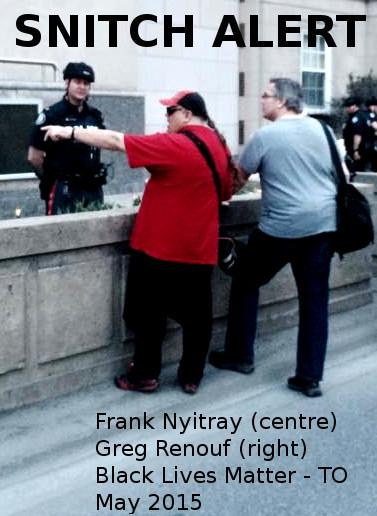 Greg Renouf and Frank Nyitray (aka Frank Ryerson)
Disruptors and police informants
These two are informants for police at activist events in Toronto and elsewhere in Ontario. A former resident of Vancouver and Victoria, Renouf disrupted Occupy Vancouver and Occupy Toronto events. He is best known for promoting bizarre conspiracy theories about activists and for his ties to discredited Rebel TV personality Ezra Levant. Nyitray is a white nationalist who is being investigated for hate speech against Jewish people and women.