Eco Warriors Legal Defense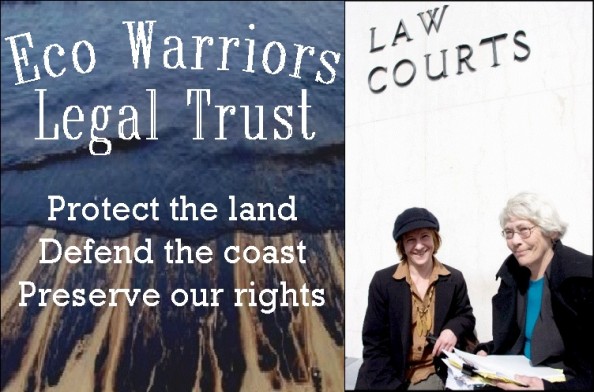 The Eco Warriors Legal Trust is a war chest to stop corporate destruction and a safety net for communities protecting land and water. We support ordinary people taking extraordinary action to defend habitat for all living things.
Robin Gage and the public-interest law firm of Underhill Gage administer the trust at the direction of VIC FAN. Big thanks to West Coast Environmental Law and its Environmental Dispute Resolution Fund for their assistance.
Please support the fund by donating online or by cheque to "Underhill Gage in trust for VIC FAN." Mailing address: VIC FAN c/o Underhill Gage Law, 816–1175 Douglas Street, Victoria, BC Canada V8W 2E1. Include a cover letter or memo on the cheque specifying that it's for the Eco Warriors Legal Trust.
Victory for Shawnigan Lake
After a long legal battle, plus blockades and civil disobedience, the people of Shawnigan Lake have prevailed in court over the operators of a contaminated dump in their watershed.
We were proud to sponsor defendant Shawna Green, an eco-warrior and indigenous mom on Vancouver Island, BC. She stood up to the company that was dumping contaminated soil in her community's drinking watershed.In November 2015, that company sued her for $50,000 in damages and threatened her with arrest.
At the same time, a record-setting rainfall flooded the dump site, and muddy sludge started pouring into nearby Shawnigan Lake. The public health service raised the alarm and sent an alert to residents warning them not to use the water and to keep animals away from the lake. This is exactly the worst-case scenario that environmentalists like Shawna warned about.
Central Walbran Valley
In Spring 2015, Teal Jones dropped the court injunction against protestors in the Walbran Valley. Activists across southern Vancouver Island are standing by if needed to stop logging in the cathedral forests adjacent to the Carmanah-Walbran provincial park.
VIC FAN is offering legal support, a supply depot, and training to help keep the peace. Please get in touch to help. Read our Open Letter to Teal Jones
Read Teal Jones Logging's lawsuit against environmentalists.
Read Teal Jones notice of application for an injunction.
Background info here. More news about the campaign is coming.
History of the Eco Warriors Legal Trust
The legal fund was established in 2008, and its first test came in 2009 when VIC FAN challenged destruction of indigenous heritage sites. VIC FAN did not prevail over the City of Langford in court, but the case derailed the destructive development of Bear Mountain Resort and its sister project, Skirt Mountain Village.
In 2010, we took on Marine Trail Resort with a legal opinion that put an end to plans for a massive (and illegal) vacation-home subdivision and hundreds of new houses along Juan de Fuca Park, west of China Beach. The project was bitterly opposed by members of the Pacheedaht First Nation and thousands of South Island residents. In the end, we won without even going to court.
For every hero on the front lines, there's a hundred more aiding them, cheering them on, and giving moral support. Please assist the eco warriors today.
Thank you!
Photo: Irene Faulkner (right) and Zoe Blunt